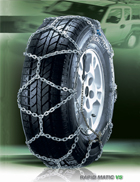 Heavy duty chains specifically designed to meet the demanding requirements of 4x4's, SUV's, vans and caravans. Standard car chains are not suitable for these types of vehicle. Available from any Halfords store. There are 12 sizes of Rapidmatic V5 - your tyre size dictates which size snowchain you need.


Fast and easy to fit. Thicker 4.5mm chain to cope with the demands of heavier and loaded vehicles.
With tough, automatic self-adjusting tensioning and locking system.
Core hardened alloy steel chains for strength and durability.
Provides high traction and control in difficult driving conditions.
Fully reversible design for extended wear.
Strong, compact case for easy storage.
TUV, CUNA & ONORM accredited.
A minimum clearance of 16mm is required between the tyre and any other part of the vehicle.
It is essential that you have the correct size snowchains for your tyres.
On 4x4's chains are usually fitted to rear wheels but, for maximum performance use two sets and fit a chain to each wheel.
Always practice fitting your snowchains at home before use.