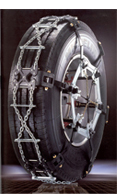 Designed specifically for commercial vehicles, TRAK Truck uses a completely new, patented mounting system to provide a strong, very reliable alternative chain to the traditional drive-on chains.

New, innovative fixing system using the wheel hub as a fixing point.
Chains are fitted to the outside of the drive wheels eliminating the need to hook up on the inside of the wheels.
Self-adjusting and self-tensioning; once fixed in place, no manual intervention is required.
Fully reversible and quick to dismantle.
Core-hardened, galvanised cross bars.
TUV and CUNA accredited.